We Stand Out From The Rest!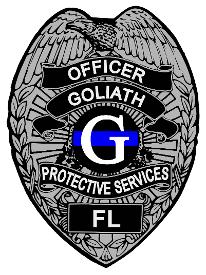 The Power To Change, Take Charge & Dominate The Industry Perception….One Mission At A Time!
Goliath Protective Services, LLC. is an elite team of professional security experts with over 25 years of experience in Law Enforcement with various protective services from Civilian encounters, Dignitary & U.S.A. Presidential Security to Private Contracts, Court, Legal, Homeland Security, Immigration's, FEMA and Correctional backgrounds or training.
Goliath employees have been trained and deployed into the highest profile Protection/Security details with all of their previous experience contributing to a safer and more efficient line of security. We hire and train the best Florida State Security Licensed Officers with previous experience in Law Enforcement, Military or Security Specialty backgrounds.
With A Great Deal Of Training, Experience And Tenacity, We Take Action And Change Things For The Positive…
We have the every day ability to ensure safety of property, asset and personal protection.
Highly skilled International Industry Management making efficient routing and scheduling.
The ability to offer "one on one" personal customer services in the state of Florida and expanding Georgia territories.
Management expertise in Class "A" residential, Property Managed, and HOA governed properties.
    Our experience speaks for itself from customer relations, to the trained     eye, and great attention to detail.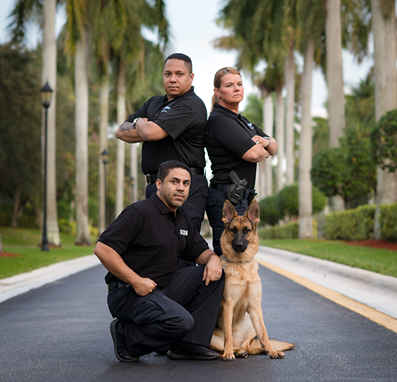 We Are Not Just Reporters-We Are Also Responders
Customer Service:
Security Officers are often seen as professionals who play an important role providing customer service. Security Officers are often the first impression that a customer has of your business. Therefore we strive for security personnel that maintains an excellent professional and physical appearance as well as verbal communication skills.
Handling Crime:
You can rest assured that the officer will behave capably and sensibly when faced with criminal or suspicious activity on the premises. With the skills, mindset, and training there is no other parallel to a First Responder and the preventative response. Goliath officers have been trained to respond to calls for service quickly and with professional discernment, reducing crime statistics.
Prevention:
Security personnel play an important role not only in protecting the occupants and property, but also in working with law enforcement to fight crime. When a crime occurs, the actions by security personnel play a huge role in the total outcome. Goliath customizes new strategic plans as part of each client's individual target goal.
Sense of Security:
An officer's presence can provide a greater sense of security for business owners, clients, employees, or residents. We offer a real time dispatch portal that is easy to use and reports areas of concern. Peace of mind ensures a more pleasant and productive environment that has a positive impact on properties and companies.
Monitoring:
Goliath's trained security officers will monitor property, verify credentials, restrict access to private property or restricted areas, check for theft, contraband or evidence of suspicious activities. These activities take a significant amount of responsibility off the shoulders of business owners and their employees, allowing them to focus on their work without fear.
Partnerships:
Goliath offers real-time access to daily reporting that includes the facts, protecting our client's interest in legal matters and property activity. We also go a step above by offering services through our preventative reporting and enhanced assessments that could save our clients thousands!
Goliath provides not only security. We address problems or report crimes by acting as a first line responder to intervene prior to Law Enforcement being called, unless it is a criminal activity that justifies such response. While we respond to residence calls for service, it gives the community a sense of self containment or control. The fewer police calls reported in an area justify a more desirable location for living. The higher ratings, the lower the crime statistics are.
In apartment complexes our officers also respond to after hour maintenance calls for service as a stand by or basic troubleshooting to prevent further or possible hazards. We standby in the safety of the resident as well as the service technician. Report water leaks saving the client thousands, report lighting issues saving liability, conduct security assessments and consultations. Here is where investors and property managers are interested in the quality, safety, and reduced liabilities. Gatehouse, rovers, random patrols not assigned to one specific property.
LET US REDUCE YOUR LIABILITIES!
If cost is a concern we will customize a program that best fits your needs based on the risk and services requested.